The castle is a symbol of safety, the center of life. Camelot is a legendary castle from the old tale about the Excalibur sword, King Arthur, the 12 knights of the round table, justice, love, lust, hate and mysteries.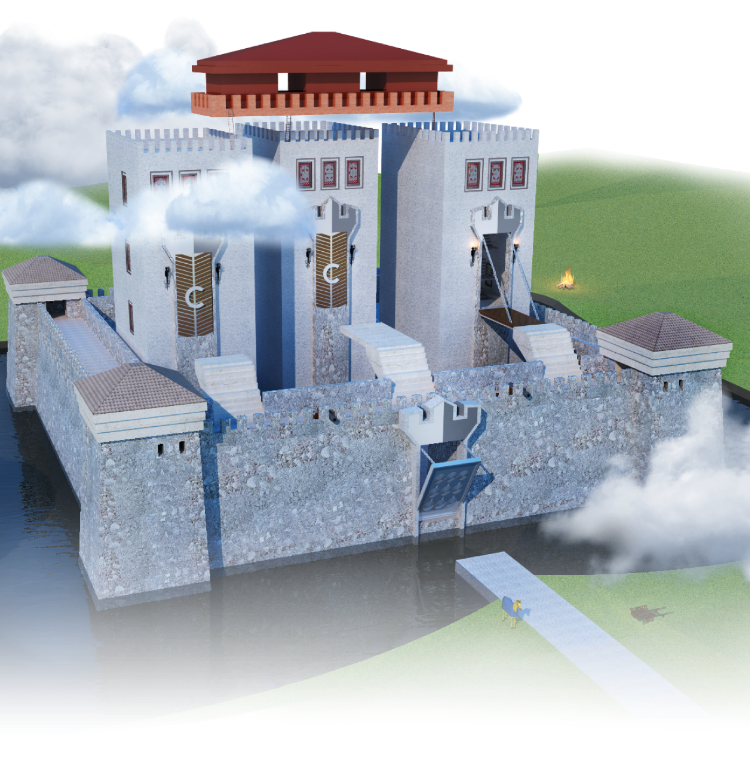 Camelot
Camelot is an application, that functions as a safe place to store your greatest valuables – data. Similar to the walls of the castle which protects its inhabitants from danger, this application allows you to decided how much data you want to protect from your enemies.
The king
Arthur – is building his kingdom, filling his treasure chests with jewelry, organizing them and even exchanging them with kings from other Camelots. He protects some more than others, the others can be accessed only via mobile access passcode. The charm lies in the possibility of creating jewelry of various shapes and made up of different materials (data type). These can be saved, backed up and eventually exchanged.
Walls
Walls are made up of a password system- passcodes, which protect data from enemies and if an emergency should arise, with one swipe of your finger you can lock your buildings. This way no one is able to see your currently displayed treasures. No one, except the king, knows how many keys to the castle exist and no one is able to prove how many actually exist. The castle has a special security system in the case that Arthur has a knife held to his throat, to give up his central security key. The application will know what is happening and it will destroy everything present, but it will appear as if nothing happened.
Knights
In the case of a war, if the universal key (PUK) for setting up the security is forgotten / lost, he can use the help of his knights – guardian angels, whom he gives half of his seals to, so that they can help him open the gates to Camelot again in the time of a crisis. These knights can never get into the castle on their own, only if Arthur allows them to.

Architecture
Organize and store your private data so securely, that no one will be able to access it.
You will always know where everything is saved
Drawbridge
Entering the Camelot application is protected by the access passcode on your mobile phone. Walking through the courtyard and public buildings (public area) is permitted to all courtiers that have access to your phone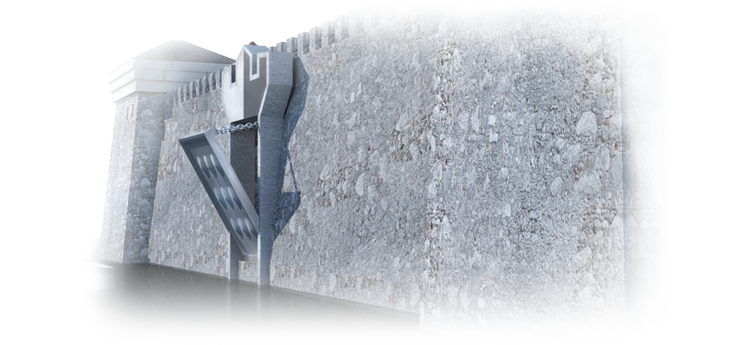 Buildings
The King has all his own buildings built – chapels, towers, residential buildings ( top-level directories). The building is entrusted to a building manager – Keeper of keys , who needs to have a passcode to the building. There can be more than one Key keeper, each takes care of their own buildings and they do not have access to buildings protected by other Key keepers.
The King is able to build fake buildings with chambers that do not contain any personal valuables, or just those that can be shown to someone, if necessary. The key to such a building can be revealed to a potential enemy. In the case that this should happen, they will only find what the King does not want to hide from them.
Similar to the Biblical story of Sodom and Gomorrah, it is possible to mark certain buildings with a secret symbol. In the case that you use your special key, the E-PUK (Emergency PUK) instead of PUK, these buildings will be destroyed so that the invaders never see them. They will only see the buildings which the King is willing to sacrifice in the event of a crisis.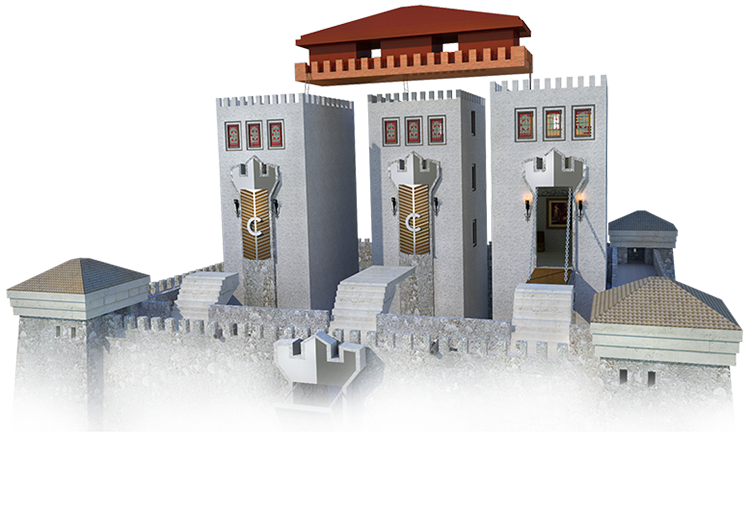 Chambers
There are chambers inside each building (directories). If the building is already open, the castle master or a visitor can walk through all of its chambers. This of course, includes the public courtyard.
The King can tag each building as "extra sensitive" (the secret symbol). If someone uses the E-PUK key instead of the central key (PUK) which is used to open all security, then everything which this directory contains will be deleted.
What if he has to walk someone through his chambers but he doesn't want to show all of his treasure, which is hidden in that chamber ? Then he has his own …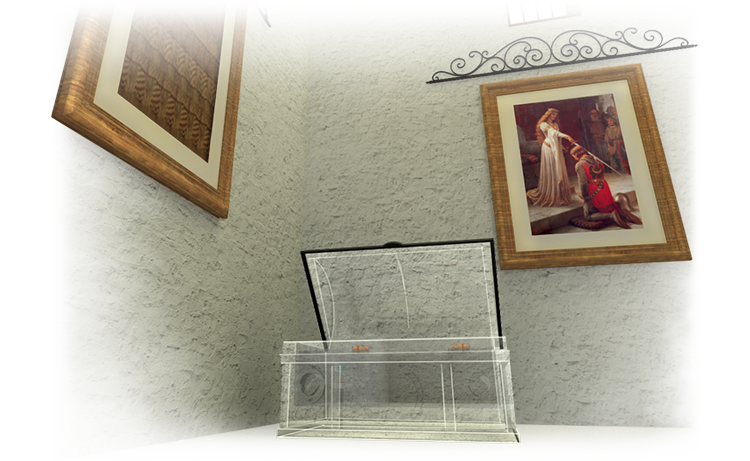 Secret treasure chest
Chest with extra protected valuables can be placed in every chamber. Treasure chests can be placed in all protected chambers and buildings, they are protected by the court jester – FOOL. He has only one universal key – FOOL PIN. Thus, the King may accompany the desired visitors and boast with all of his rooms and their beauty, but if he does not use this secret key, the visitors will never see the treasure chests or their contents (for example, pictures of his concubines). This is also true in the event that Arthur reveals his key to the given building to someone(unless he shares the Fool PIN with them).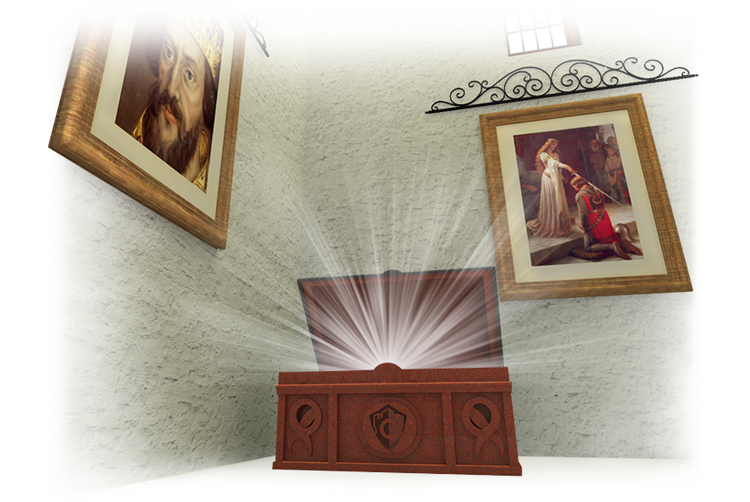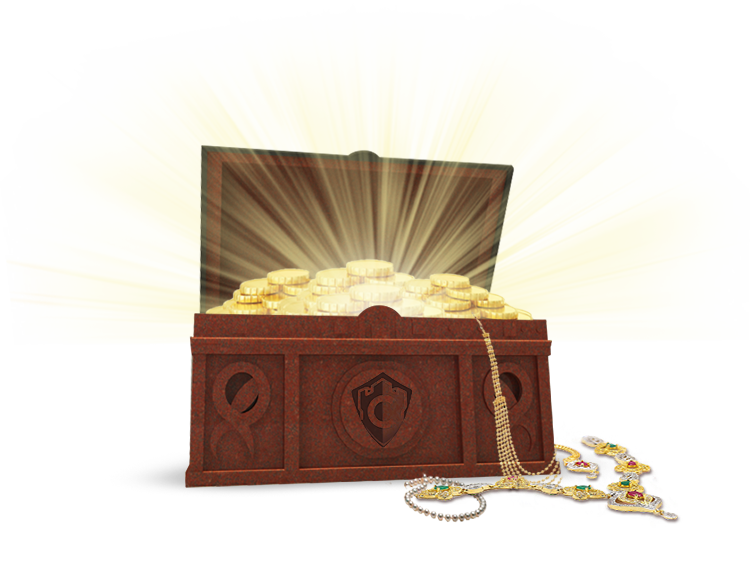 Jewelry
Information has the greatest value. Your information is your treasure. Camelot allows this jewelry to be created, organized and stored in individual buildings, chambers and chests and in some cases allows you to trade them.
Individual jewels are stored in specific files –structured in the form of components (metadata). They can contain multiple valuables and properties.
When creating the jewelry, the king determines which type has the given value. The jewel can be composed of multiple items of the same type.
Password – This type is arbitrary text, but it offers the King the function of generating random passwords according to predefined criteria ( length, character types). Arthur can save the generated value immediately or change it , if needed.
Text – This is plain/regular text
Camera – In this case, the King can take pictures directly in Camelot using his medieval communicator. It is necessary to check if the image you have taken was not stored in the standard image gallery. There is a real danger of disclosure, so this danger must be removed!
Gallery and Multimedia – Arthur can select photos from his royal gallery and store them in Camelot, which will then be placed in the selected building or chamber. While modifying, the King can choose if he wants to place it in a treasure chest  that is Fool PIN protected or if passcode protection will be sufficient.
URL – This contains a link to the internet and can be opened in the system browser when viewed.
Date – The treasure selected can have a time stamp (expiration). Camelot allows the King to set a reminder that something is happening with the treasure and that it should be properly maintained.
GPS – In addition, Arthur can save the geolocation information associated with a given treasure  (such as the grave of his father King Uther and the place where he died in the battle of Excalibur) and if necessary, it will appear on the map.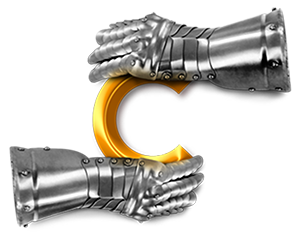 Manufacturing
The king creates jewelry from individual components (see Structure of valuables) in a specific building and decides whether he will leave it freely in that specific chamber, or if he will store it in a treasure chest in that chamber that is Fool PIN protected. At the same time, the item can be marked with a secret tag, which means, if the E-PUK is entered then this item will automatically be deleted.
Storage
Property inventory in a given chamber (directory) makes it possible for individual jewels to be thrown away (delete), duplicated (copy) or moved to different chambers.
Trading
Arthur can happily trade his jewels with other kings. Valuables can be sent via various messengers (email, Viber, news, WhatsApp) in legible format protected by a specific PIN or directly to the other kings Camelot application, who can save it directly in their castles in the same format.
It is entirely up to him, whether or not he will send the valuables from the protected chambers and chests.

Protection
The enemy, is anyone that could try to exploit you, after seeing your valuables. Arthur must be careful when choosing how to protect his jewelry (into which buildings and chambers he will place them), but at the same time think of a back up plan and build an underground tunnel. If the enemies decide to besiege Camelot for a long period of time and block it, so that he could not get in. (see War section).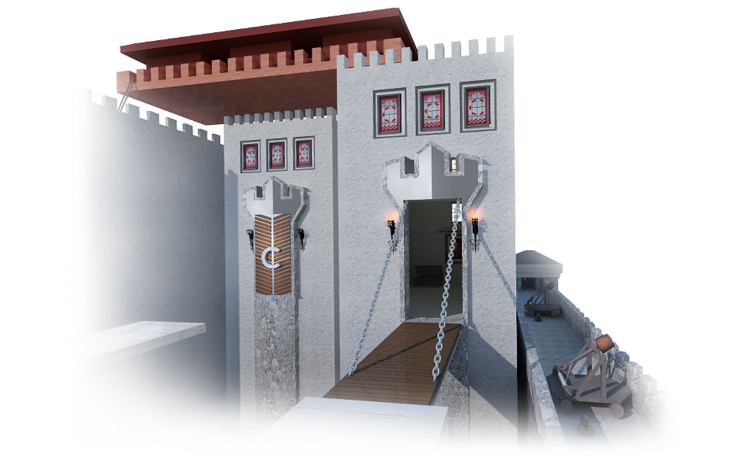 Managing
All the keys are located on one key ring, which is always available on the applications screen. During the tour, Arthur knows where all are located based on the appearance of the Camelot logo. He uses them if it is necessary to quickly lock and escape to the courtyard ( all it takes is one touch on the Camelot icon) or to open individual buildings and chests by using the Fool PIN ( by holding the icon).
Buildings
The doors to the buildings are protected by the keepers of keys. The king can build his castle with one or more towers. The only buildings that are visible are the ones created by that specific key keeper. When Camelot is opened with the help of a PUK or a guardian angel, all keeper of keys are visible.
Treasure chest
The treasure chest can only be opend by the court jester – Fool. There is only one in Camelot
Chronicle
Every unauthorized attempt to enter into a building or treasure chest (Fool PIN) is written in the chronicle by his dignitary.The King is informed everytime an attempt to enter his protected building is made. It is not possible to erase the chronicle. All data is kept for 30 days before erasing itself.
The increasing number of consecutive attempts, extends the length of time before the person can try another attempt.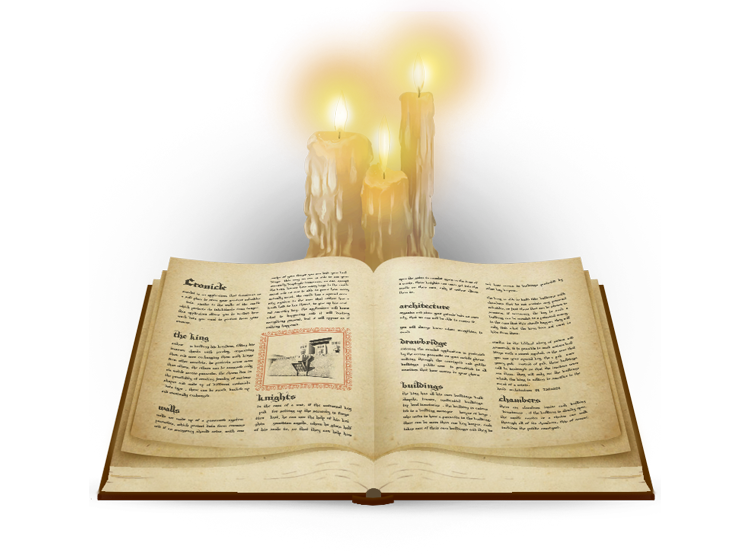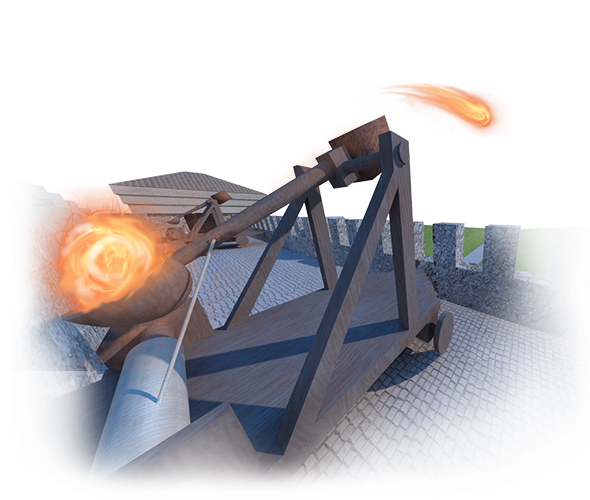 Blocked Camelot
The King must be prepared, in the event that he should lose or forget his keys.
For this purpose, he has keeper keys. Arthur can decide if he wants to use the super-secret PUK key and/or use his guardian angels for help.
Burgrave
The castle keeper has a PUK – a special key, which can, but doesn't have to be created at the start of building Camelot and allows Arthur to open the setting of the castles entire defense system.
Trojan horse
Arthur can confuse his enemy ( such as the furious Guinevere) by giving them his fake E-PUK (Emergency PUK). After it is entered, all treasures and directories under ALL passcodes that are marked E-PUK_delete, will self-destruct.
Guardian angels
If paranoid Arthur is afraid of his tight-knit circle, the PUK doesn't need to be saved but then he must rely solely on his guardian angels.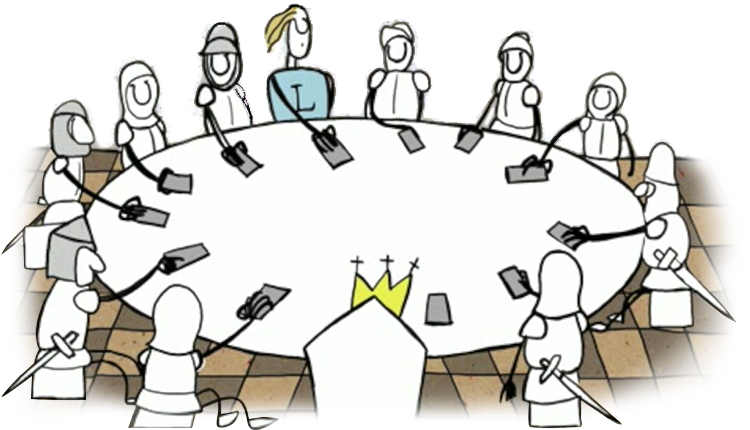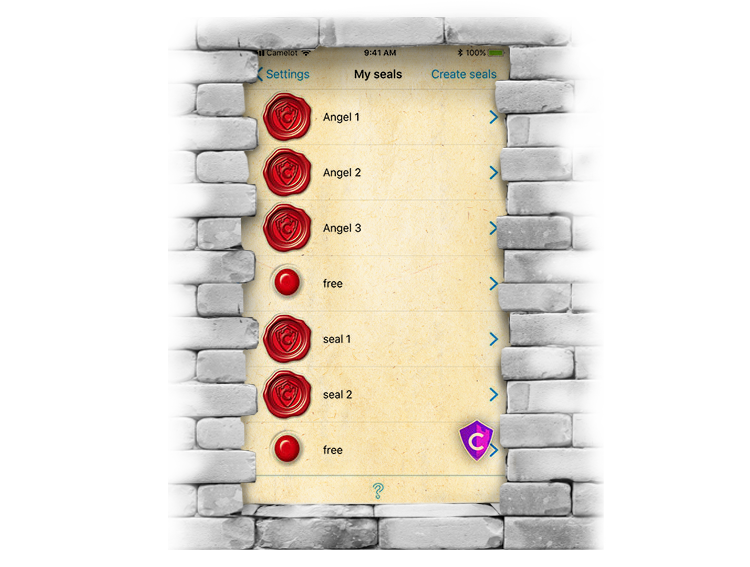 Roles
Arthur has 12 loyal knights, which he fully trusts and sits at a round table with.
Lancelot, Gawain, Geraint, Percival, Lamorak, Kay, Gareth, Bedivere, Gaheris, Galahad, Tristan and Palamedes
In this case, he can entrust some of them half seals (authorizations), that can help Camelot fully open and reset the safety of the entire castle.
Angel seals
It's a system of keys –  seals from the castle, which allow Camelot to be opened in the case that the castle should become closed. The king doesn't have to give these seals to all the knights at once, e.g. giving it to seven of them is enough. At the same time, it determines that it's enough if only 3 seals come together to unlock the application. This is a type of protection in case, one or more should fall in a battle.

Key production
This is a process in which royal locksmiths produce individual administrator seals, which are then handed over to individual knights.  The individual knights do not necessarily need to know each other, or know about each other. Only the king knows who they are because a person doesn't change their true friends very often.
Key ceremony
Each chosen knight recieves half a seal from Arthur If a chosen knight receives only half a seal from Arthur, the hand over must be done in secret (QR code). Each knight hides it in their own castle – their own Camelot.
Unlocking the castle
If necessary, the king will ask a selected group of his knights to send him their seals (e.g. smoke SMS signals). When the number of keys submitted reaches the required limit, Camelot will open again and Arthur can reset the castles entire security system.
Revocation
At the same time, he can revoke a seal which has already been issued. In the case that a knight turns against him and teams up with the enemy, or loses their mobile phone and is unable to recover their data.

Backup
The king must be protected against his castle burning down. All of his valuables, including the blueprints of the castle must be backed up so that he is able to correctly reconstruct it.
Reconstruction
The castle is rebuilt according to the backup plans.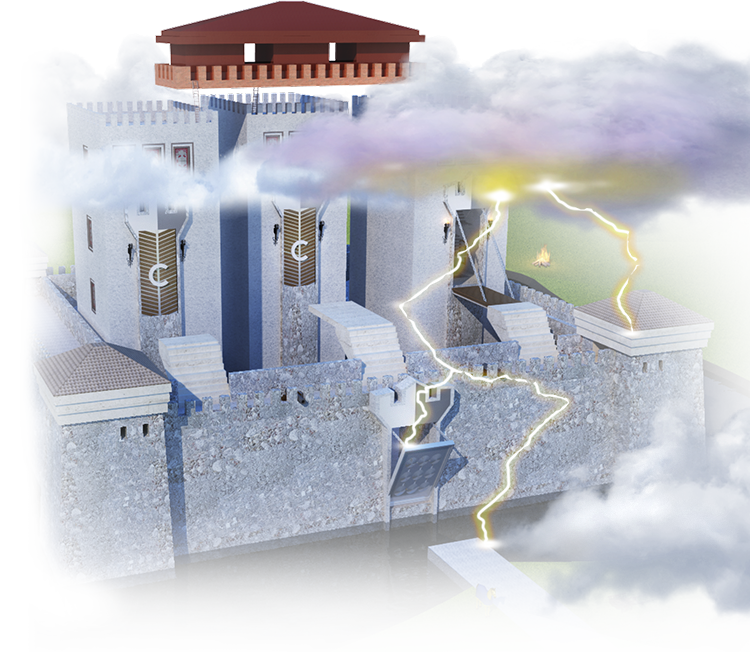 All that's left to do now is to download Camelot, become ARTHUR and build your own castle