Architecture
Don't Be Afraid to Leave Your Mobile Unattended
Architecture
Don´t Be Afraid to Leave
Your Mobile Unattended
Data
When we say that you can save everything you can think of in our application, it might sound like we are boasting but that's just the reality. Everything that can be turned into ones and zeros ( and can be properly encrypted), CAMELOT is able to save, sort and easily find.
It's only up to you to choose if you will use it as a sophisticated safe for your passwords, private pictures or health information, or if you just want to clearly (and safely) sort your notes, interesting photos or quotes .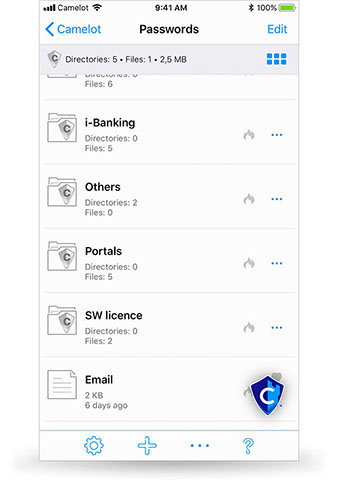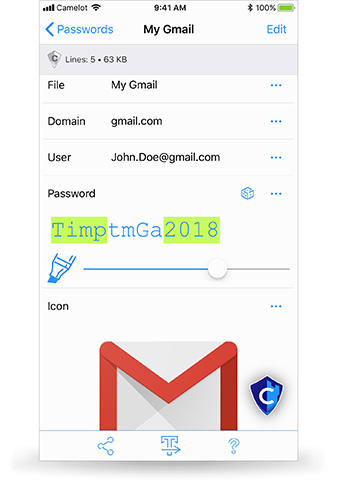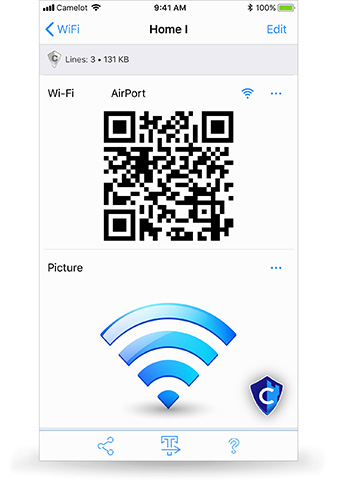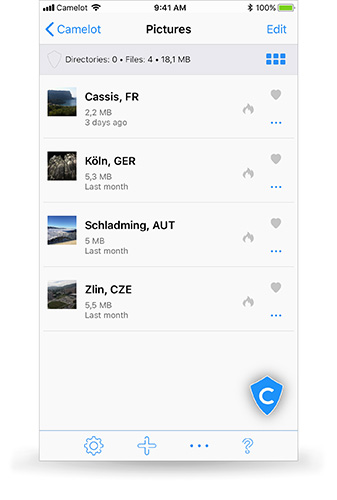 Security zones
All of us have different types of sensitive data in our lives. On this pictures, you can clearly see which types we are talking about.
CAMELOT allows you to store and sort your data, depending on its level of importance to you. This is the reason that we have a sorting system and different levels of security.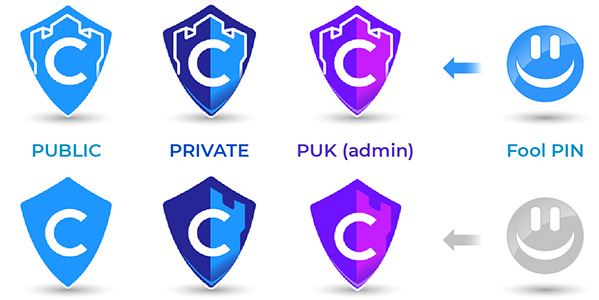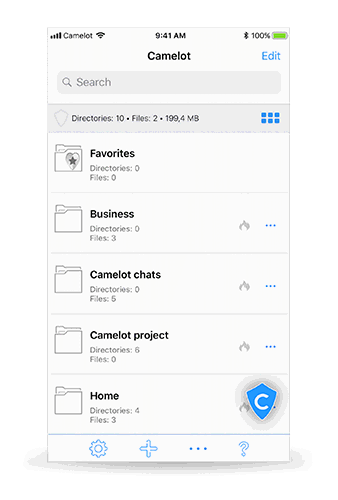 Data saved in the public zone, can be seen by anyone that has access to your mobile phone. Your data is saved and sorted depending on your needs and you can access it immediately after opening the application
Behind closed doors…Let's say that you have photos you don't want everyone to see, photos you want to be seen only by some, or some very personal information like credit card information..

Create a PASSCODE and select certain directories to make them private. No one will be able to open these directories without the passcode.
If you have files in your directories which you really want to hide, flag them FOOL PIN protected and they will not appear without you intending it, even if they are in the same directory.
It's simply like having a second security system. Folders with this data will be taken to the grave with you.
It may seem complicated, but we all have these three types of data in our lives (and mobile phones). With the help of CAMELOT you clearly decide what type of data that is and what will therefore be protected.
DIRECTORIES and FILES help you accomplish this.
Directories
Directories are your albums. They are seperated into public and private. You will not be able to enter the private ones without your PASSCODE (you can create more of these).
If you were being forced  to show someone the complete content of the application, you could select which directories should  automatically self-destruct  after entering the EMERGENCY PUK ( like a decoy instead of the PUK). This way someone who is unauthorized will never find them.
If you regularly back up, you will not lose your data. You will only have to create a new EMERGENCY PUK as the prior one becomes the new PUK.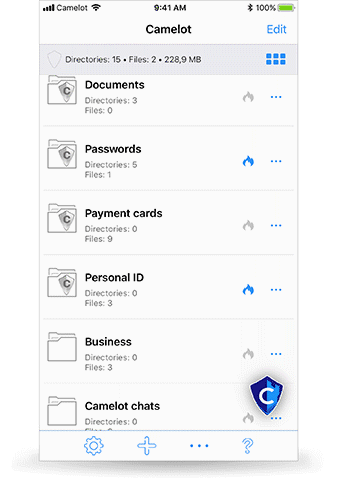 Files
Files are data composed of different formats (texts, photos, videos, data, numbers, GPS, URL etc.) which you want to save in the application. You can work with them the exact way you are used to working with your computer files (create, delete, edit or copy).
Of course it is possible for you to easily share these with your friends (whether it be only individual files or even entire directories).
Mark files you want to access quickly as your FAVOURITE, you will see all of them in that directory when you open the CAMELOT application. Those which will be marked as hidden, will appear only after you enter your PASSCODE.
Similar the directories, you can set up an EMERGENCY PUK for specific files. The EMERGENCY PUK can deletes everything if some unauthorized person tries to look at what you have hidden.
Do you have more delicate files in your directory? Flag them FOOL PIN protected and they will not appear without it.
In the free version of CAMELOT it is possible to save an unlimited number of files in the public zone, but only a maximum of 10 files in the private zone.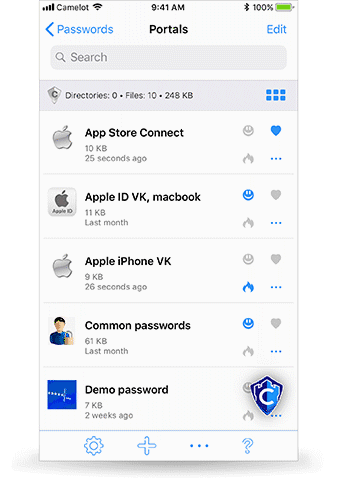 Security
While creating the CAMELOT application we were quite paranoid. We tried to think about all possible risky and dangerous situations that you could be up against. You are the one who gets to choose how safe you want to keep certain data from lurking strangers.